Pan-Afrikan Dinner & Dance
February 24, 2018 @ 7:00 pm

-

February 25, 2018 @ 2:00 am

$60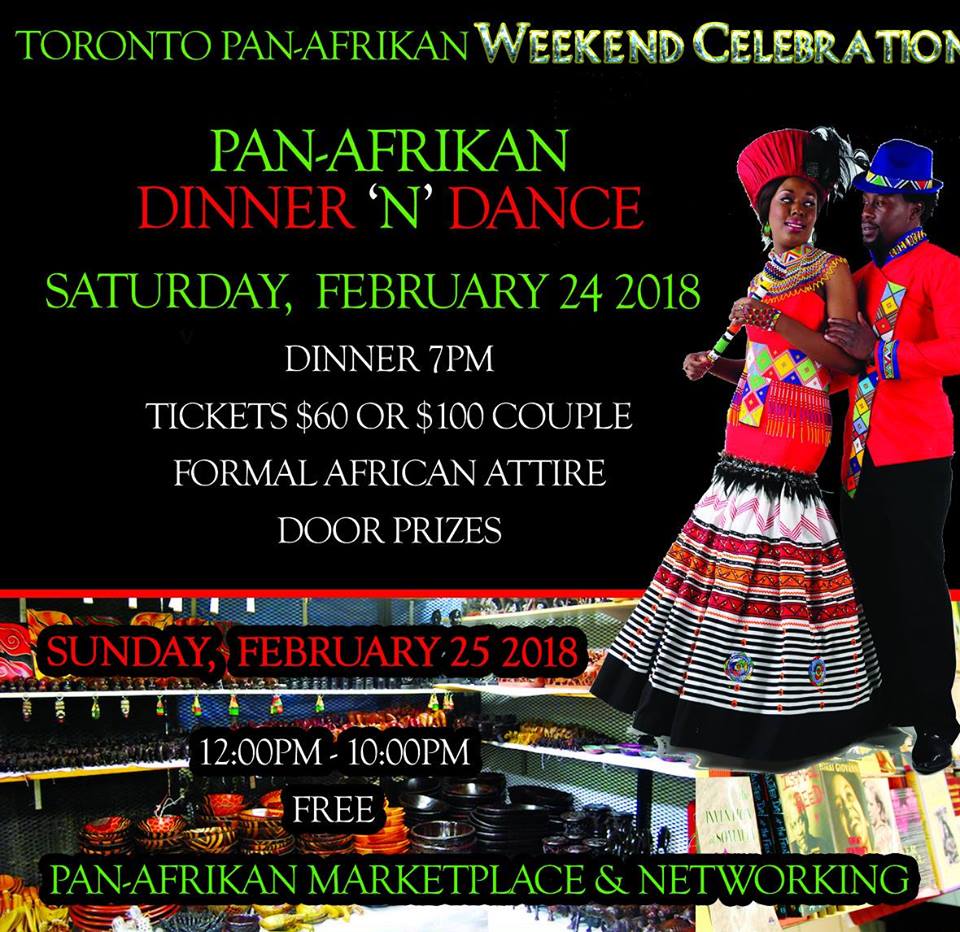 The Pan-Afrikan Weekend Black History Month Celebration begins…
Saturday February 24, 2018
Help us celebrate our Rich Culture & Heritage at the Pan-Afrikan Dinner & Dance on Saturday February 24, 2018 in the Lady Hamilton Ballroom inside the Toronto Plaza Hotel.
The evening will be hosted by Lady Sharon of Roots Reggae Hub and Dewitt Lee lll of the Money, Power & Respect Show on 96.5 Radio Fm
Storytelling Performance by Adam Myrie, author and award winning poet.
Adam, will take you on a journey across an ocean of time, when master griots sat around ancient fires and told great stories of kings, queens and gods; in epic tales from the forgotten past.
Dance performance by Afua Ngoma
Afua Ngoma Drum and Dance Ensemble is creating new rhythmic waves in the Afro-Caribbean cultural arts movement in Toronto. The group is the birth child of "Soca Sweat" dance and fitness instructor Kumba Adowa, and was founded in the summer of 2014. The multi-generational drum and dance troupe has continued to defy the odds of a young independent culture and dance troupe.
A short keynote address by the Prince of Pan-Afrikanism, Bro Irritated Genie rounds off the evening before you dance the night away!!
Arrive in style, in your formal Afrikan attire!
Reception at 7:00 pm
Dinner at 8:00 pm
*50/50 Draw
*Cash Bar
$60 per person
$100 per couple
For General Inquires/Media (647) 919-0466
General Inquires/Vendor Information (416) 454-3848